ND Nonprofit Sector
The North Dakota nonprofit sector strengthens the economy as employers and contributors to the state GDP; improves communities through critical mission work in arts and culture, education, the environment, health care, human services, religion and more; and engages diverse stakeholders to address vital issues.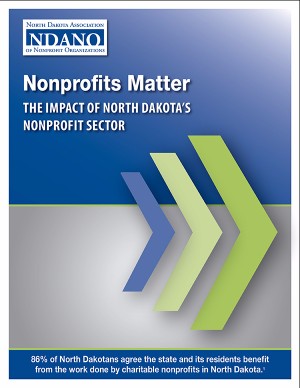 Nonprofits Matter: The Impact of North Dakota's Nonprofit Sector highlights the essential work of the state's charitable nonprofits in all mission areas.
As an example, North Dakota nonprofits:
Employ 13 percent of the state's workforce.
Leverage volunteer power ($404 million of service contributed) to enhance professional staff and impact.
Improve the health and well-being of citizens, communities and the land.
"While individual nonprofits are often recognized for their important work, the collective impact of the state's nonprofit sector is often overlooked," says Tim Eissinger, NDANO president and Anne Carlson Center chief operating officer. 
Nonprofits Matter: The Impact of North Dakota's Nonprofit Sector
Perceptions of North Dakota Nonprofits
In 2016, NDANO commissioned a study to assess residents' general perceptions of charitable nonprofits in North Dakota. Among the results, North Dakotans agree that:
Source: A telephone survey (landlines and wireless) was conducted by Winkelman Consulting in February 2016, with the interviews providing a 95% confidence level with an overall minimum and maximum margin of error of ±3.6% and ±6.0%.