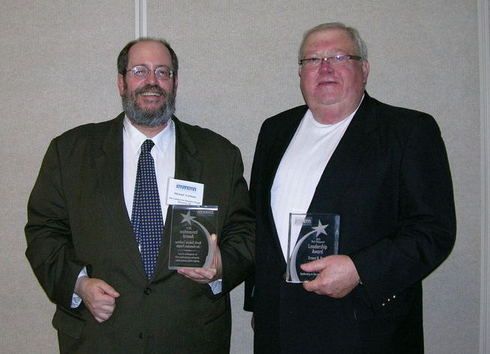 The North Dakota Association of Nonprofit Organizations (NDANO) presented its 2012 Innovation Award and Walt Odegaard Leadership Award on June 6 during the Nonprofit Leadership Conference in Bismarck.
The Innovation Award is given to a nonprofit organization that has taken initiative to demonstrate community leadership and build partnerships. The 2012 Innovation Award winner is the North Dakota Coalition for Homeless People. The award was accepted by Executive Director Michael Carbone (left).
The Walt Odegaard Leadership Award is given to an individual who has made a difference by strengthening the nonprofit sector through leadership, volunteerism and/or philanthropy. The 2012 recipient is Ernest B. Borr, president of Borr and Associates in Bismarck (right).
"NDANO is pleased to recognize excellence in the nonprofit sector through its annual awards," says NDANO Executive Director Dana Schaar. "This year's award recipients are to be commended for their commitment to enhance quality of life throughout North Dakota."