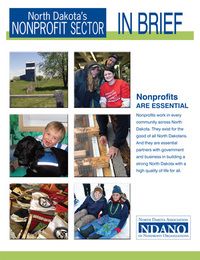 North Dakota's charitable nonprofit sector is not only diverse but also a significant contributor to the economy, leveraging resources to address challenges and improve quality of life in every community across the state, according to a new study entitled North Dakota's Nonprofit Sector: In Brief from the North Dakota Association of Nonprofit Organizations (NDANO).
"While individual nonprofits are often recognized for their important work, the collective impact of the state's nonprofit sector is often overlooked," says James Yockim, NDANO president and Bethel Lutheran Foundation director. "As a sector, nonprofits are essential partners with government and business in meeting the challenges facing our state and ensuring a high quality of life for every North Dakotan."
With their commitment to the common good, North Dakota nonprofits are an effective investment and vital to the state's economy.
•North Dakota is home to 6,201 nonprofit organizations, of which 3,515 are public charities.
•North Dakota nonprofits employ 45,500 people, more than 15 percent of the state's private sector workforce.
•More than $340 million in services are provided by North Dakota volunteers to help nonprofits achieve their missions.
North Dakota businesses rely on the services nonprofits provide to support the well-being of their employees and their families. Government relies on nonprofits to provide a safety net for those in need. Communities rely on nonprofit programs to enrich family life, protect the environment and respond in a crisis. "If North Dakota nonprofits disappeared, so much of the life we enjoy in North Dakota would be lost and the most vulnerable among us would face even greater obstacles," says Dana Schaar, NDANO executive director.
As the premier association, leader and voice of North Dakota's nonprofits, NDANO strengthens communities and enhances quality of life through engaging and ensuring a strong charitable sector. NDANO is the statewide membership association advancing North Dakota's nonprofit sector through advocacy and public policy, education and training, resources and research, cost-saving programs, and leadership and networking.