Sponsor Opportunities
NDANO invites your organization to take advantage of the opportunity to connect with the entire North Dakota nonprofit sector as a sponsor and/or exhibitor at the 2020 Virtual Nonprofit Leadership Conference May 27-28 and June 3-4.
The conference brings together nonprofit staff, board members and volunteers from across the state to participate in educational sessions and to network with nonprofit, government and business colleagues.
Brochure Inclusion Deadline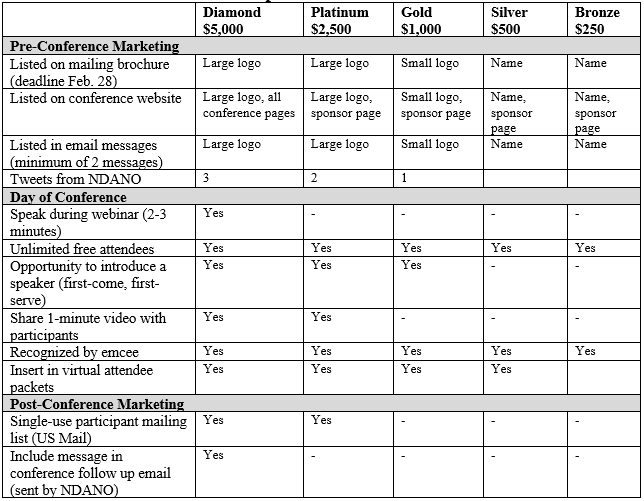 New Exhibitor Format
Did you know that recent studies show participants learn more in an online format rather than in the classroom? That includes learning more about you and your organization! Exhibitors will have the opportunity to participate in the virtual Nonprofit Leadership Conference through an exhibitors' room on the conference website. Exhibitors are asked to send a promotional video or image that will be placed around the link participants will need to use to access the live sessions. 

Exhibitors will also benefit from an exhibitor game in which conference participants will have the chance to fill out a trivia game based on fun facts about each exhibitor. Each participant that enters will be placed in a drawing for a $25 Amazon gift card.
Exhibitor Opportunity
The exhibit hall will be open starting Wednesday, May 26 and stay open for the entire conference for people to access the recordings.
Exhibitor Options
NDANO Member - $200
Nonmember - $300 (learn more about membership)
Submit a sponsor and/or exhibitor registration form.