State Policy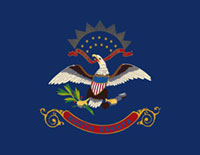 NDANO works to strengthen and mobilize the state nonprofit sector's public policy voice in North Dakota. During the biennial state legislative session, NDANO tracks bills that may be of interest to North Dakota nonprofits and provides weekly reports to members (also posted in members-only section of website). NDANO also takes positions and lobbies on legislation that impacts the entire North Dakota nonprofit sector. This long-term work is guided by our public policy agenda.
---
Protect Donor Records
At NDANO's request, Sen. Wardner is the prime sponsor for SB 2195 to exempt from public disclosure donor records of nonprofits that are subject to open records laws. Currently, only donor records of nonprofits affiliated with higher education and the university system are exempt. Bill co-sponsors include Sen. Dever, Sen. Dotzenrod, Rep. Steiner, Rep. Streyle and Rep. Mock. SB 2195 has passed both chambers and been signed by the Governor.
Nonprofit Assets
SB 2276 changes ND Century Code 10-33 on nonprofit corporations to clarify a nonprofit's use of restricted assets and to adjust the distribution of assets should a nonprofit dissolve. NDANO supports SB 2276 with the amendment offered by the ND Attorney General's office, which clarifies that temporarily and permanently restricted assets must be used according to donor intent and also provides the ability to utilize temporarily restricted assets to secure loans. SB 2276 has passed both chambers and been signed by the Governor.
2017 Nonprofit Day at the Capitol
Thank you to everyone who attended and made NDANO's 2017 Nonprofit Day at the Capitol on Feb. 7 in Bismarck a success.
---
State Policy Resources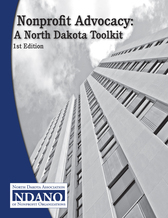 Nonprofit Advocacy: A North Dakota Toolkit is a 32-page publication that includes tips and tactics for advocacy and lobbying, information on the state legislative process, and state and federal lobbying rules.
It is a great, inexpensive resource for staff, board members and volunteers!
The North Dakota Secretary of State has an election portal on its website called Voice Your Vote: North Dakota Voices Count.
North Dakota Links