Advocacy & Public Policy

State Policy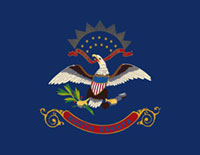 NDANO works to strengthen and mobilize the state nonprofit sector's public policy voice in North Dakota.
During the biannual state legislative session, NDANO tracks bills that may be of interest to North Dakota nonprofits and provides weekly reports to members. NDANO also takes positions and lobbies on legislation that impacts the entire North Dakota nonprofit sector. This long-term work is guided by our public policy agenda.
2013-2014 Legislative Interim
During the legislative interim, NDANO tracks studies and potential bills of interest to the North Dakota nonprofit sector and sends periodic e-updates to members.
NDANO is closely following studies related to property tax exemptions that may impact charitable nonprofits. In addition, several studies focus on health care reform and the Affordable Care Act, which impact nonprofit employers.
Home page for all interim legislative activity

Meetings, agendas and minutes

Prioritized list of studies approved by Legislative Management
State Policy Resources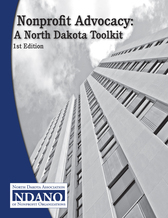 Nonprofit Advocacy: A North Dakota Toolkit is a 32-page publication that includes tips and tactics for advocacy and lobbying, information on the state legislative process, and state and federal lobbying rules.
It is a great, inexpensive resource for staff, board members and volunteers!
The North Dakota Secretary of State has an election portal on its website called Voice Your Vote: North Dakota Voices Count.
North Dakota Links