Advocacy & Public Policy

State Policy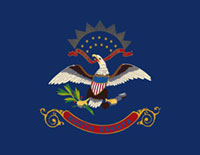 NDANO works to strengthen and mobilize the state nonprofit sector's public policy voice in North Dakota.
During the biannual state legislative session, NDANO tracks bills that may be of interest to North Dakota nonprofits and provides weekly reports to members. NDANO also takes positions and lobbies on legislation that impacts the entire North Dakota nonprofit sector. This long-term work is guided by our public policy agenda.
2013 Legislative Session
The 2013 Legislative Assembly concluded in the early morning hours of Saturday, May 4, on the 80th day, the last day it could be in session and the first time this has happened in modern history. NDANO took positions on three bills and tracked 156 bills during the session.
During the interim, NDANO tracks studies and potential bills of interest to the North Dakota nonprofit sector and sends periodic e-updates to members.
Policy Position: Oppose Assessment of Fees Against Charitable Property
HB 1380 will allow cities to levy special assessments against charitable property currently exempt from taxation for safety and emergency services by setting up improvement districts specifically for this purpose.
NDANO supports the the charitable property tax exemption provided in the North Dakota constitution and opposes attempts to eliminate or circumvent this exemption because it diverts money from mission and limits nonprofit service for the public good. As nonprofits are facing increasing demand for services, now is not the time to assess additional fees against nonprofits and decrease resources available to serve people and communities in our state.
Review NDANO's policy on charitable tax exemptions.
Bill Status
HB 1380 as amended failed on the House floor by a 31-61 vote on Feb. 18 despite a 10-4 do pass committee recommendation.
This is an important win for the charitable nonprofit sector to ensure funding is dedicated to mission work. Thank you to all representatives who voted no and all nonprofits that raised their voices on this significant issue.
Policy Position: Support Sales Tax Exemption for Charitable Nonprofits
North Dakota sales and use tax law does not exempt purchases made by charitable nonprofits [501(c)(3)s]. Instead, the law details specific organizations which are exempt from sales and use tax. Examples of nontaxable organizations include hospitals and schools. Taxable organizations include churches, human service organizations and arts groups.
NDANO supports a sales tax exemption for all charitable nonprofits and is working to get a bill introduced this session. We believe in this legislation for two primary reasons:
1. It makes more funding available for mission.
2. It ensures equitable treatment for all charitable nonprofits under state law.
View NDANO's policy statement on this issue. NDANO has prepared a sample board resolution to assist your organization in taking a position on this issue.
Bill Status
Unfortunately, HB 1240, which would have provided a sales tax exemption on purchases by charitable nonprofits, failed on the House floor by a 33-56 vote on Feb. 12.
NDANO would like to thank Rep. Strinden and Rep. Fehr for speaking up in support of the bill on the floor. We would also like to thank the bill sponsors: Rep. Mock, Rep. Fehr, Sen. Armstrong, Sen. Dotzenrod and Sen. Sinner.
State Policy Resources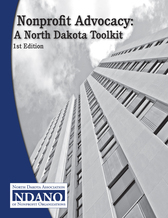 Nonprofit Advocacy: A North Dakota Toolkit is a 32-page publication that includes tips and tactics for advocacy and lobbying, information on the state legislative process, and state and federal lobbying rules.
It is a great, inexpensive resource for staff, board members and volunteers!
The North Dakota Secretary of State has an election portal on its website called Voice Your Vote: North Dakota Voices Count.
North Dakota Links