State Policy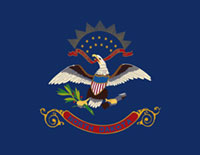 NDANO works to strengthen and mobilize the state nonprofit sector's public policy voice in North Dakota. During the biennial state legislative session, NDANO tracks bills that may be of interest to North Dakota nonprofits and provides weekly reports to members (also posted in members-only section of website). NDANO also takes positions and lobbies on legislation that impacts the entire North Dakota nonprofit sector. This long-term work is guided by our public policy agenda.
---
2017-2018 Legislative Interim 
Fifty studies have been prioritized for the legislative interim and assigned to specific committees. NDANO has identified several studies with potential impact on the state nonprofit sector for tracking this interim:
Other studies are likely of interest to specific subsectors of nonprofits. The links below provide additional information on interim committees and prioritized studies.
2019 Legislative Session
The 66th Legislative Assembly begins with the organizational session Dec. 3-5, 2018, and kicks off Jan. 3, 2019.
Mark your calendars for Nonprofit Day at the Capitol on Feb. 5, 2019.
---
State Policy Resources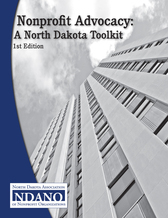 Nonprofit Advocacy: A North Dakota Toolkit is a 32-page publication that includes tips and tactics for advocacy and lobbying, information on the state legislative process, and state and federal lobbying rules.
It is a great, inexpensive resource for staff, board members and volunteers!
The North Dakota Secretary of State has an election portal on its website called Voice Your Vote: North Dakota Voices Count.
North Dakota Links