State Policy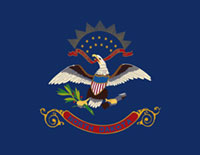 NDANO works to strengthen and mobilize the state nonprofit sector's public policy voice in North Dakota.
During the biennial state legislative session, NDANO tracks bills that may be of interest to North Dakota nonprofits and provides weekly reports to members (also posted in members-only section of website). NDANO also takes positions and lobbies on legislation that impacts the entire North Dakota nonprofit sector. This long-term work is guided by our public policy agenda.
---
2017-2018 Legislative Interim 
Legislative interim committees have completed their work and will be reporting study results and recommended bills to Legislative Management Nov. 15-16.
2019 Legislative Session
The 66th Legislative Assembly begins with the organizational session Dec. 3-5 and kicks off Jan. 3. Gov. Burgum will share his executive budget recommendation with legislators Dec. 5.
Key deadlines are posted on the legislative website.
Nonprofit Day at the Capitol Feb. 5
Call for Nonprofit Day at the Capitol Exhibitors - Deadline Nov. 16
NDANO is looking for nonprofit members to share an exhibit table at the 2019 Nonprofit Day at the Capitol Feb. 5. Space is limited, so we invite members to complete this interest form by Nov. 16 if your organization would like to showcase your mission and connect with state legislators during Nonprofit Day. Every effort will be made to ensure exhibitors represent a broad cross-section of the North Dakota nonprofit sector. Selected exhibitors will be notified by Dec. 14.
While a limited number of exhibit tables are available, all members are invited to join us for Nonprofit Day at the Capitol! Registration will open in December.
---
State Policy Resources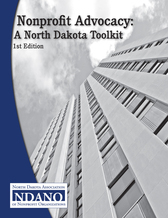 Nonprofit Advocacy: A North Dakota Toolkit is a 32-page publication that includes tips and tactics for advocacy and lobbying, information on the state legislative process, and state and federal lobbying rules.
It is a great, inexpensive resource for staff, board members and volunteers!
The North Dakota Secretary of State has an election portal on its website called Voice Your Vote: North Dakota Voices Count.
North Dakota Links