Best Practices for North Dakota Nonprofits
NDANO's "best practices" program for North Dakota charitable nonprofits is designed to educate nonprofits, board members, donors and the public about recommended conduct that is most likely to result in effective, accountable, ethical, transparent and legally compliant organizations. 
It has three purposes: to provide individual organizations striving for excellence with a tool for operational evaluation relative to the rest of the state nonprofit sector, to support the quality of the sector and to increase public understanding of the contributions of the sector.
Principles & Practices Guide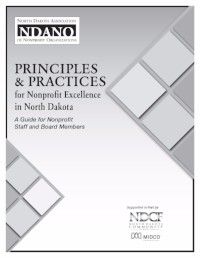 NDANO's first-ever publication - Principles & Practices for Nonprofit Excellence in North Dakota: A Guide for Nonprofit Staff and Board Members - is a management tool to help North Dakota nonprofits evaluate operations relative to best practices and other nonprofits in the state with the ultimate goal of a stronger, more effective state nonprofit sector.
10 Principles
A working group of North Dakota nonprofit leaders identified the following 10 guiding principles for nonprofit excellence, along with accompanying legal requirements and recommended best practices.
Governance
Accountability & Transparency
Financial Management
Fundraising
Human Resources
Advocacy & Public Policy
Planning
Evaluation
Information & Technology
Strategic Alliances
NDANO members are able to access additional Principles & Practices resources as outlined below. Not yet a member? Join today.
Share feedback on the best practices program with NDANO.