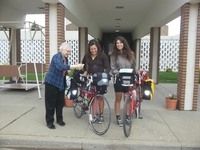 Sacred Heart Benedictine Foundation is a vibrant community of Catholic Benedictine women who strive to deepen their relationship with God and one another through sharing the spiritual and material gifts God has given to them on the prairie. Though they have been serving in southwestern North Dakota for over a hundred years now, their ministries have adapted to the times by the gifts they have among them to offer to all they encounter. They have had schools, nursing homes, housing for elderly and a hospital in various parts of North Dakota, but are now primarily working within and from the monastery just outside of Richardton.
One Sister is serving on the Fort Berthold reservation; two chaplains are in health care centers in Bismarck and Wahpeton; one is a resident manager at an apartment complex for the elderly in Dickinson; and one is a social worker for MedCenter One in Bismarck. Twelve Sisters live at the Monastery serving in various capacities that help sustain the guests.
Their hospitality ministry is increasingly important with the surge of population and housing needs in the Richardton area. They have renovated their facility to better accommodate guests who come for stillness in the midst of noise and bustle or those who are unable to find or cannot afford housing. Their Spirituality Center offers various programs throughout the year and provides accommodations for groups to meet. As Benedictines, they have long had good stewardship as one of their basic values. They live this out in living simply, using wind turbines and geothermal to provide their facility needs, gardening, rearing llamas and using their wool for handmade products, and sharing all they can with those in need.
For more information visit the website or contact Sister Renee Branigan at 701-974-2121.
If you are interested in having your nonprofit featured in an upcoming newsletter, email NDANO. Requests are honored on a first-come, first-served basis.